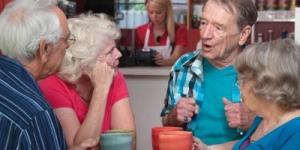 The Grief Recovery Institute, as an organization, takes no position on political or social issues. We only have positions on how effectively we can help people deal with their reactions to loss of every imaginable kind. Of course, if we had the power, we would eliminate all events that harm anyone, but that's not realistic. So we must content ourselves with helping people deal with the grief producing events that affect their lives.
For 25 years we have been preaching an emotional gospel that would open up the topics of grief and recovery from loss, so that people could talk safely about their reactions to the painful events that affect their lives, and then take actions to complete what those losses leave unfinished. It has been a daunting task. We have often felt like Don Quixote and Sancho Panza, tilting at the windmills of misinformation that keep people from their normal and natural reactions to loss. Recent events have indicated that our efforts have not been in vain, as witness to the language that now opens nearly every press conference about the war in the Middle East: "Our heartfelt condolences to the family and friends..."
The President, the Prime Minister, the Commanding General, and other key figures each open their briefings with a verbal acknowledgment of grief and condolences to family and friends, before addressing the facts, figures, and details of the war. It goes without saying that each and every life lost is precious, to the individuals who died, and to all who remain to grieve them. But what must be said, loud and clear, is that there has been a major societal change in our relationship to the public verbalization of grief. These direct and immediate statements of grief are relatively new and oddly welcome, though they do very little to ameliorate the grief of the surviving family and friends.
The constant use of the words grief and grieving represents a major shift in communication on a topic that has been shrouded in secrecy and only spoken of privately and in hushed tones. Our world has changed in this regard. Grief is now the first statement, and not the last, and is not being overlooked. On behalf of all grieving people, we are grateful that at long-last, grief is becoming an open topic of conversation, and that the emotions of loss are verbalized, not hidden.
For our part, we will continue teaching the actions of recovery that must accompany the expression of grief. We extend our gratitude to all who have spoken out on behalf of the grievers, whose lives have been altered by the events that are unfolding. We include world leaders, military leaders, and in particular, the collective media, who have done their part by airing those comments on grief. Thank you all.
And Now a Little Challenge
The Grief Recovery Institute doesn't promote the publicizing of any family's grief. In our opinion, that is totally off-limits, and we challenge the collective media to honor the privacy of specific, individual grief, while at the same time helping to keep the general topic open for all. When a family experiences the death of a loved one, it naturally circles the wagons, and draws inwards into itself. The immediate and extended family join in exchanging reminiscences, mingling sadness and laughter as their grief expands memories of their interactions with loved ones who have died. Outsiders really aren't welcome. The media are outsiders. Sometimes some of its member lose sight of the fact that they are not part of the extended family and forget their manners. Nothing robs a griever's dignity more than invasive interrogation at the most emotional moments in their lives. The public's "right to know" doesn't extend into the intimate and personal area of grief, even when the events themselves are public knowledge. We implore our friends in the media to maintain a strong vigilance in protecting grieving people from the glare of the public spotlight at a very private time.