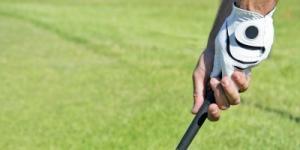 Published 2003 On Sunday, April 13, 2003, as the late-day Georgia sun slipped down in the sky, a young man of incredible virtue rose high to teach us all a lesson. The man's name is Len Mattiace. He is a professional golfer, and by the slimmest of margins, he is NOT this year's Masters Golf champion. He actually won the tournament - that is, he tied for first place in regulation, with the eventual winner, Mike Weir - but he lost the title in a sudden death playoff. On his way to the formal, post-tournament press conference, he stopped to do an informal interview with one of the television crews. As he spoke, he began to cry. He wept openly and copiously. And he did not apologize for crying. He wiped his eyes with his hands, and then wiped his hands on his shirt sleeves, not unlike a little kid with peanut butter or chocolate. And he did not apologize for crying. 
He gathered himself up a little bit, and then he started talking again, and the tears flowed and he cried and wiped and talked through his tears. And he did not apologize for crying. At one point, the crying got very large - body shaking variety - and he turned away from the microphone and the camera, just for a few seconds. But he did not walk away, and he did not stop. He turned back into the camera and started talking again. And he did not apologize for crying. He never apologized for crying, although he did make an honest and humorous explanation. He said, "As you can tell, I'm an emotional guy. Probably the Italian in me." Every year we wait with anticipation for "Time Magazine's" annual Person of The Year. The Grief Recovery Institute found our Person of the Year on Sunday.
We thank Len Mattiace on behalf of adults and children everywhere for showing us his heart and telling us his truth. We don't think there can be a better emotional role model. Modern sports have always been perceived as a metaphor for combat, in which we, the audience, vicariously take sides in a mock reenactment of life and death battles. We wave the colors of our team and urge our personal gladiators to win for the glory of our side. The Masters Golf Tournament, as a metaphor for combat, was fought in the shadow of a real war, the one in Iraq, which had and has real blood and real death, and the victors don't get trophies or cash prizes. And the losers don't get to cry in front of the cameras. We would like to dedicate the idea of the open and natural display of emotions to all of the people whose lives have been devastated or disrupted by that real war. We would especially like to transpose the content of Len Mattiace's perfectly human, undefended display of emotions onto all of the terrified children whose daddies and mommies are somewhere in that war zone. And to tell them to keep talking and keep crying. And never apologize for being human.