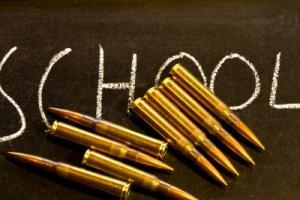 The Tragedy of School Shootings
On January 17, 1989, 25-year-old Patrick Purdy walked onto a junior high school campus in Stockton, California with an AK-47 and opened fire. When it was over, there were five dead children, twenty-nine injured children, and one injured teacher. Purdy himself was dead. Needless to say, scores of others were traumatized by what they had witnessed. In the immediate aftermath, thousands of column inches were written in newspapers and magazines about the Stockton Massacre, as it was dubbed. In all of the reports and stories, they kept trying to figure out why it had happened. On Monday, March 21, 2005, 16-year-old Jeff Weise killed his grandparents then proceeded to kill eight others at his school in Red Lake, Minnesota. The collective media and the experts interviewed were once again trying to figure out why. As one headline put it, "Motive the big question in US high school shooting." The search for why has always been off target. If you look at the opening sentence of this article you might imagine where most of the energy was centered. Yes, on the AK-47. If you Google Patrick Purdy right now, you will find endless references to the debate it inspired about the easy availability of guns and guns with that kind of firepower. You will also find many references to the fact that Purdy had been treated with a variety of psychotropic drugs to deal with a history of mental disturbances. Finally, you will discover that all of the dead children were of Asian descent, so a tremendous amount of reporting was devoted to the socioeconomic and ethnic makeup of that school community. And everybody missed the point. The essential point was buried in the back of one newspaper article. A quote from Purdy's mother made a chilling observation.
"I watched him get sick and go downhill from the day his father died."
Her truthful statement answered the question of why, but went almost totally unnoticed. If you were to spend five minutes researching parallel incidents over the past 16 years, you'd find that unresolved grief is the only common denominator that connects all of the perpetrators. Yet it is hidden from real consideration by the intellectual pursuit of more elaborate causes. This week, in reaction to the Red Lake School incident near Bimidji, Minnesota, we are once again reminded of the possibility of the catastrophic consequences of unresolved grief. In the short time since young Jeff Weise's rampage in Minnesota, we already know the grief backstory that represents the underlying causal issue. We know that within a relatively short span of time Jeff's father committed suicide, his mother suffered brain damage in an auto accident in which one of Jeff's cousins died, and that his maternal grandmother died. But a great deal of ink and TV time has already been devoted to young Jeff's participation in Nazi-oriented websites. We certainly cannot dismiss that as contributory. We also realize that in addition to the grief events that shrouded his life, Jeff may have had some pathological issues which may or may not have been identified. A listing of the major parallel events that have made national news in the years since Patrick Purdy went berserk in Stockton contain just one unifying factor. Each of the assailants had an immediately recent or long-term history of grief events that undoubtedly pushed them over the edge. There are no exceptions. If you pick young Charles "Andy" Williams who killed two classmates in Santee, California in March of 2001, you will find the grief in the divorce of his parents and his moving away from all he knew in Pennsylvania. If you pick Jonesboro, Arkansas where 13-year-old Mitchell Johnson and 11-year-old Andrew Golden killed four fellow students and one teacher in March, 1998,  you will find more histories of split families and cross-country moves. You will also find that one of the boys was embittered by a rejection by a girl at school, but much of the focus after Jonesboro was placed on the ease of access to weapons in the grandfather's gun cabinet. The list goes on and on, and the only connecting thread is the litany of unresolved grief attached to each of the perpetrators. Some of the grief relates to the death of someone important; some to the divorce and fracturing of families; some, as in the cases of Klebold and Harris at Columbine, relates to having felt shunned by the in group at the school. They had other losses and there were issues with prescription medications, but their alienation was a key to their eventual horrific actions. The problem is the constant attempt to find an intellectual explanation to blame for the events that are the result of a massive build-up of grief energy inside the minds and bodies of unhappy young people. The availability of guns or dangerous websites makes for easy discussion and can be made to look as if they are the cause. But they are the least of the equation. The real issue is that as a society, we do not deal well or effectively with what starts as grief, when ignored becomes unresolved grief, and finally turns  into fuel for the explosions that wind up on the news. In fairness, most children who have a parent or grandparent die do not get a rifle and shootup the playground at their schools. Most of the young people whose parents divorce do not wind up killing their classmates. Most students who do not make the varsity football team or get selected for the lead in the school play do not wind up household names for taking actions that leave dead and wounded. The fact that there are only a limited number of these horrendous events does not mean that we and our children are dealing well with the grief caused by the many losses that can put us off balance. The fact that some of us, adult or child, are afflicted by other demons of the mind and spirit, does not diminish the fact that as parents, teachers, and guardians of our young people, we must learn effective ways to deal with our own grief so we can help them with theirs.