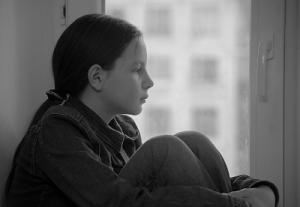 Much of what we know about loss was taught to us by our parents. Those ideas we learned became part of our belief system. Unfortunately, our parents weren't working with the most accurate information on this misunderstood topic. You can read about the grief myths here. As a parent, there are ways to make sure that you pass along healthy, useful information to your children about grief. Whether their first loss is something tangible, like the loss of a pet, or something a little less tangible, like the loss of trust in a sibling or parent (very common as a first loss), there are ways to make sure your child doesn't feel isolated in their grief. Read on for some quick and easy tips about children and grief.
Helping Bereaved Children
#1 -Learn to know what to look for in your child
As the parent, you will learn how to identify a loss issue in your child. When Children Grieve will shed light on many types of losses, not only death. A few examples of other losses children might experience are moving, divorce of parents, or loss of trust in a friend or family member. Very often these losses go unnoticed as grieving experiences. The emotional energy trapped inside the child can lead to problems in school as well as in other areas. You should be able to identify possible grieving experiences that your child has had and then help them say goodbye to what was unfinished in their relationship with the person or event that they're grieving over.
#2 - The illusion of protection
Sadly, loss will touch the lives of all of our children. As parents, we try and protect our children at all costs. In trying to shield them with little or no information about the loss, we often confuse our children, and unknowingly teach them to distrust their intuition. Children are very intuitive and when your verbal and non-verbal language do not match up, they already know that you are omitting or editing the truth. This lack of information can actually feed the child's imagination and make matters worse. We'll go into details on this very important topic and give you some guidance on age-appropriate information depending on the circumstances of the loss.
#3 - Myths about Grief
While growing up, society passes on some very unhelpful tools to deal with grief. Ultimately, these tools end up supporting the idea of stuffing down every loss you've ever had. We go into the subtle ways that we unconsciously pass these myths along to the next generation. Make sure you do not perpetuate these myths to your child!
#4 - Get practical tools to help your child
This book is not just theory based or something to read and simply put back on the shelf. There will be exercises and actions that you and your child can take to help heal your hearts. These Grief Recovery actions have helped thousands of people for over thirty years and you will have access to all of them in When Children Grieve.
#5 - This book will help you too
Children watch us and follow the leader. One of the best things you can do for your child is make sure you are emotionally complete with any past losses in your life. They will ultimately learn almost everything they know about grief from watching you. If you cry and immediately run to your room and close the door, they will learn to grieve alone as well. If you "stay strong" for your children, they will learn to stuff feelings down and show no sad emotions.  To help them effectively you must be the leader.
"There isn't anyone in life who hasn't experienced some kind of loss. It's comforting to know that we are not alone in our sadness and that practical, easy-to-read, thoughtful help is available by way of Russell Friedman, John James, and Leslie Landon Matthews's gentle insights on the pages of When Children Grieve. Thank you, Neighbors, for your obvious care." ~ Mr. Fred Rodgers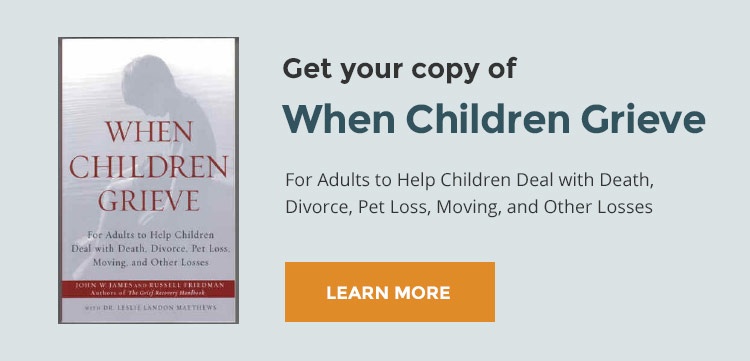 Image credit: evdoha / 123RF Stock Photo