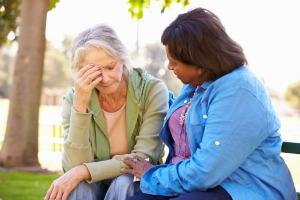 Do you know someone who is grieving, but don't know what to say to him or her?
Many people have similar concerns. They want to be helpful but were never taught the correct way to talk with grievers. There are no classes in school on how to help people when they have experienced significant emotional loss, so most people simply say what parents, friends, and teachers have taught them; or say what was said to them when their own hearts were broken.
When people don't know what to say to grievers, they often don't say anything at all. This leaves grievers feeling isolated and alone, when what they want, and need, is to be listened to without criticism, analysis, or judgment.
When grievers do build up the courage to share their emotions, sympathetic friends usually say, "I know how you feel". That well-meaning phrase robs grievers of the opportunity to openly share their feelings.
If you want to help someone who has a broken heart, two of the most helpful phrases to say are, "What happened?" or "I can't imagine how you are feeling." Then listen to the reply. Let grievers talk openly and freely without sharing your own experiences, correcting them, or interrupting. They will then feel safe and "heard", which is invaluable. For more information on how to talk to grievers, download our free e-book.