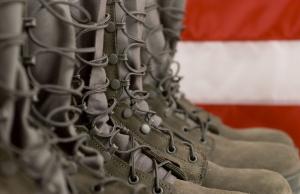 Are you a veteran?
Is there a veteran in your life that might be suffering from unresolved grief? 
We're honored to have helped many men and women in uniform. A few of them graciously offered to share their stories about how the Grief Recovery Method worked in their own lives and how they feel it can help other veterans.  
Kevin's Story
The Grief Recovery Method has been a life changing experience for me. The biggest principle I've learned is that grief is normal and healthy. It's a completely healthy reaction to have to any loss we might have in our life. Often mourning an event, or showing sadness, can be seen as a weakness depending on how you grew up. 
Growing up in an alcoholic household I trained myself to hide my pain with comedy. I would always try to get people to laugh and pretend like the event never happened. I stuffed all of those feelings down in the pit of my soul. 
As a Marine Corps Combat Veteran of the Iraq War I had to compartmentalize my emotions as a survival coping mechanism. When I came home I had no real good outlet to deal with my emotions. 
When I attended the seminar it was an emotional experience. It was there that I was introduced to the concept that I could acknowledge my emotions. I could talk and write about them in a safe environment, and best of all, I could say goodbye to the experience so I could move on with my life. Experiences I've had will not be forgotten but they won't dictate my future. 
Two days ago I got home from work and turned the news on. I saw that Isis had overthrown Ramadi. My eyes swelled up and I cried the hardest I have ever cried in my life. It was heartbreaking and gut wrenching to watch. Because of my experience in the Grief Recovery Method I was able to grieve for my loss. I didn't pick up a drink, stomach the pain and pretend it didn't happen, or grab a gun. I cried like I've never cried before, gave my wife and son a kiss, and then said a prayer. 
I have had the honor to council and console several of by fellow Ramadi veterans over the last few days. I am so grateful for the gift I have been given by the Grief Recovery Method. The gift to be present in the moment, and deal with all that life throws at you, is priceless. Thank You for letting me share my story with you.
Semper Fi,
-Kevin W Rea
Tamara's Story 
I have used the Grief Recovery Method for over four years now. I have used it with all age groups from 8 to 82. I have used it with students, incarcerated youth, professionals, active military, and veterans, among others.  I have used the Grief Recovery Method personally so many times I cannot count. Without a doubt, the day I completed my first full, action program, my life was changed. 
As an active duty Soldier, 2 years post deployment, a mom, a recent divorcee, a student, and a human being that had suffered more than her fair share of losses, I had been in a very dark place in life. The day I walked out of the Grief Recovery Method certification, I had a smile on my face, and lightness in my heart that I didn't fully understand, and it was a turning point of healing. The program set me on a course that has led me to be a helper--a peaceful person who can hold others hurts and be with them in their darkness as they search for light. 
I have used the Grief Recovery Method with countless active duty and traditional Soldiers, as well as, Veterans. From their feedback to me, overwhelmingly, 100% of every human being can benefit from the program. I look at it as a gift that I have received and am now willing to give to anyone that is ready. 
My bliss is hearing someone say, "I am ready to make a change." Those 7 words make my heart smile and give me the feeling of exhilaration as I get to be beside another person on their road to recovery and watch regain a renewed sense of self. 
If I had my way, the concepts of the Grief Recovery Method would be in elementary schools on up. If I had my way, every military member would have to take the class at the beginning of their service obligation and periodically throughout their careers. Without a doubt, military members and their families would benefit from experiencing the Grief Recovery Method prior to, during, and after deployment. 
Until then, I will hold hope that this vision is brought to fruition for the Grief Recovery Institute.  
On this Memorial Day, it is my wish that our military friends and families all find their way to a Grief Recovery Method Specialist and begin their own journey of recovery.
-Tamara Hurst, Lieutenant Colonel (Retired), Licensed Professional Counselor Associate, Certified Grief Recovery Method Specialist
Bobby's Story
As a veteran who has suffered from PTSD, I found the Grief Recovery Method to be the final chapter for my PTSD. I was able to come to completeness and be free from my "unresolved emotional feelings." The Grief Recovery Method allowed me to see the whole picture of my struggles with PTSD. 
For over 12 years, I was in group counseling with the Vet Center and I learned how to cope with PTSD but not how to be complete and free. I searched for "closure" and used all of the misinformation of trying to find it.  My studies gave me the intellectual knowledge, but this did not bring me to completeness.
In writing my book, "
My Thorn In The Flesh – A Vietnam Veteran Speaks About Post Traumatic Stress Disorder And The Bible
," I realized that some ingredients for "closure" were still missing.  From the Biblical standpoint, I found that God had given the answers to my struggles. My problem was I was looking for "closure".  I wanted my past to be closed. Intellectually, I had done everything I could do, but emotionally I had not! I saw characters in the Bible that had come to completeness and were free from their past.
Learning that I had mainly dealt with the intellectual side only, I needed to deal with the "unresolved emotional feelings" that I had about my PTSD. Using the Loss Graph, the Relationship Graph, the Three Components, the Completion Letter, and saying "Goodbye" brought me to completeness and freedom with my PTSD. When I was told about the "PS Letter", I was so thankful because if I needed to re-visit any of my losses, the Grief Recovery Method had already thought of how to do it.
Before, people would ask me, "How are you doing?" I would reply, "I am fine." What "fine" meant was "Feelings Inside Not Expressed." After finishing the seminar, I changed it to "Feelings Inside NOW Expressed."
-Bobby D. Gayton
If you're a veteran you are not alone. If you've been compartmentalizing you're feelings you don't have to do that anymore. You don't have to pretend you are fine. Seeking help is courageous. You owe it to yourself. 
Call us at 1-800-334-7606. The Grief Recovery Method can help. Learn more about military discounts and Veteran Education Benefits that are available to you.
Thank you for your service.