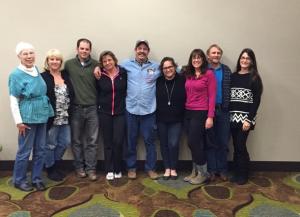 Here are 6 reasons I became a Certified Grief Recovery Specialist. See if any of them resonate with you. 
A Desire to Help Others – I've always had a strong desire to help others. If you're reading this there's a high probability you do too. That's the one common thread I've noticed between all Certified Grief Recovery Specialists. Whether they work in the funeral industry, mental health, church, medical fields, or are simply regular folks, they all have a desire to help people.
It's a Proven Method – People spend a lot of time-sharing intellectual ideas and quotes about recovering from grief, but very few tell you how to actually do it. The Grief Recovery Method has successfully helped grievers for over 35 years. Their books have been translated in 20 languages and they are represented on all continents. Whether people read and use The Grief Recovery Handbook, went to a Grief Support Groups, attended One-on-One sessions, or Personal Workshops, it always helps the courageous grievers willing to do the work!
The Grief Recovery Institute is the World Expert on Grief and Grief Recovery - The more I talked to people in the mental health profession, the more they admitted they didn't get much training on grief in school.  Most of them said the Grief Recovery Certification Program was the most grief education and training they had ever had in grief. They said this was the missing link. If I was going to help grievers I wanted to go to the experts. Heck, The Grief Recovery Institute has an impressive list of people they have trained and a fantastic list of organizations and libraries to whom they donated their time, books, and expertise. They were even the first people to ever use the words Grief and Recovery together! I found my experts!
Can Help Others Immediately – I considered going to school to become a therapist, but didn't have the time or money to do so. The Grief Recovery Certification Training allowed me to help grievers in a short amount of time.  The mental health professionals in my Certification were thrilled at the tools they learned over 5 days and loved that they could use them immediately upon returning to work!
Can Work as Much or Little as You Want – Although I wanted to facilitate Grief Support Groups I didn't want to completely change careers. Being able to use the Grief Recovery format around my current work schedule was appealing.
Get Free Ongoing Support and Education – Helping grievers is a big responsibility and I liked the idea that I could get support by calling The Grief Recovery Institute at any time.
If you're considering attending the Grief Recovery Certification Training because you want to help others, need continuing education credits, or are looking for something to add to your existing career read more about The Certification Training now. You have nothing to lose and everything to gain. 
How about you? Why did you become a Certified Grief Recovery Specialist? Or if you're considering it what questions do you have?