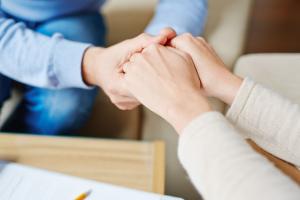 The Grief Recovery Method is used around the world in a variety of settings. The presenters range from psychiatrists and psychologists to physicians, nurses, clergy members, funeral directors and lay people. The common denominator among them is that each of these people have found this method to be a powerful tool with which to work though grief in their own lives. They have then chosen to become certified to use it to help others.
We frequently receive inquiries concerning the use of The Grief Recovery Method in therapeutic practices. We thought that the best way to answer such questions was by interviewing an actual therapist.
Ashley Mielke is a registered psychologist with a practice in Edmonton, Alberta. She earned her Bachelor of Arts in Applied Psychology from Concordia University College of Alberta in 2008 and her Master of Science in Marital and Family Therapy from Loma Linda University in California in 2012. Thereafter, she opened her practice in Edmonton.
I met Ashley at a conference last Fall, and she agreed to be interviewed for this blog.
Question: What was the focus of your practice prior to becoming certified as a Grief Recovery Specialist?
Mielke: Prior to becoming a Certified Grief Recovery Specialist, I was in general practice. Although I had developed a strong passion for working with grieving individuals after my dad died in 2010, I worked with individuals, couples, and families who presented with a variety of lifecycle issues.
Question: When and how, in relation to your education/practice, did you first hear about GRM?
Mielke: I first learned about The Grief Recovery Institute and the Grief Recovery Method when I began researching "grief specialization trainings" online in the Fall of 2012. I had just graduated from with my Master's degree and began practice as a psychologist. I knew I had a passion for working with grieving people but I did not have any tangible tools to offer them, other than to be a "heart with ears" and provide a safe, open, and non-judgmental space for them to share their stories of loss. When I began reading the Institute's blogs, I immediately identified with their values, philosophy, and approach to working with grieving people. I immediately signed up for the Certification Training.
Question: Were you at all skeptical about going through the training?
Mielke: I had no apprehensions or skepticism prior to the training or while completing the training. I knew within the first few hours of the training that The Grief Recovery Method was an excellent fit with my values, beliefs, and ambitions for helping grieving people.
Question: How did the training impact you on a personal level?
Mielke: The training absolutely changed my life and my career path as I knew it. I experienced a profound shift in the healing that I desperately needed with my dad, and in other significant relationships in my life. It changed how I viewed myself, others, and relationships, and I took a new found responsibility for my life. I stopped victimizing myself in regards to past losses, I said goodbye to old expectations and beliefs that were not serving me, and I began to live my life more presently, for me. I began to see my world through a new lens.
Question: How soon did you introduce the GRM to your practice?
Mielke: I left Monday afternoon, full of excitement and curiosity about where this work would take me. I immediately changed my business name, updated the content on my website, and began my first one-on-one program that week. I knew I had been called to do this work and I wanted more than anything to help my clients achieve a sense of completion.
Question: How did you find it to impact your clients?
Mielke: This work has been incredibly successful with my clients. What is so different about the GRM from other approaches is that it gives me something tangible, something concrete, a clearly defined and structured process to work with. This is precisely what my clients desired in their healing, and every therapist's dream! My clients want to know that there are actions they can take to help heal their hearts and that they won't be sitting on my couch every week for the next 20 years! After several one-on-one programs, I began to see a pattern of success in my clients' journey of healing and recovery. This was the most meaningful work they had done. I developed a deep appreciation for the importance of doing the clean-up work of the past, in order to move forward in the future. How can we say hello to the new, if we don't say goodbye to the old?
Question: Has using the GRM changed or impacted your practice on any level?
Mielke: Absolutely. In just 3 years since starting my practice and becoming certified, my business has quadrupled in the average number of clients we see on a monthly basis. Over 70% of our clients are working through the GRM Program. The other 30% are focused on maintaining long-lasting behavioural and emotional change, after completion is achieved. 100% of our clients are grievers. Additionally, we receive a number of referrals from past clients, physicians, therapists, insurance companies, and non-profit agencies who highly regard the work that we do in our community. Since 2013 I have completed over 200 one-on-one programs and one 8-week group program, facilitated over a dozen certification trainings, and I've hired 3 contractors to work for my practice who are all certified in the method.
Question: Would you recommend the GRM to others in your profession?
Mielke: Absolutely. If it is their true passion and calling to work with grieving people, this is an incredible program that will not only enrich and transform the quality of their life and their work, it will affect significant change in the lives of their clients.
Question: Any other thoughts you would like to share?
Mielke: Not only can we apply the skills and knowledge we have acquired as Grief Recovery Specialists, we can also utilize the training, experience, and qualifications we have as mental health professionals. We don't undervalue our skills and the services we are qualified to offer to our clients. For those of you who are mental health professionals, you can build upon what you already know and what you are already skilled it, to continue to support your grieving clients beyond completion.
Ashley Mielke's practice is named The Grief & Trauma Healing Center. Her team now includes three psychologists who have all furthered their education with certification in the Grief Recovery Method, plus an additional staff person, also certified by The Grief Recovery Institute. You can learn more about her practice at www.healmyheart.ca
Other related articles that might be of interest:
5 Ways the Grief Recovery Method Certification Training Guides Hospice and Hospital Staff and Volunteers
5 ways the Grief Recovery Method Certification Helps Funeral Directors
5 positive benefits of adding the Grief Recovery Certification specialization in your church community