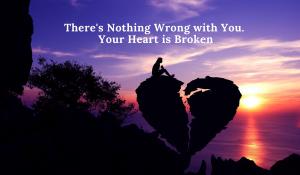 Have you heard any of these statements?
"It takes half the time you were with someone to get over them."

"Grief is your new normal."

"You're in denial."
Even though they are popular, they aren't true… at least they don't have to be! People will try to fit themselves into a category if you give them one, but what if the categories hinder their healing? What if timeframes and absolutes actually keep them trapped in their pain and further away from recovery and living life to the fullest again?
There are no absolutes when it comes to emotional pain. There are no definitive stages, or time frames for grieving. There are, however, some common reactions to loss. 
Reduced Concentration

- Have you ever forgotten why you left one room and went into another, or couldn't remember what you wanted to say? That is common for people who are in emotional pain.

Feeling Numb

- Remember the first moments following a painful loss? Did you feel a sense of numbness? That's an almost universal experience. It can be emotional, physical or both. It might last ten minutes or ten hours. 

Different Sleeping Patterns

- People with broken hearts might sleep more or less than they are used to.

Changed Eating Patterns

- Do you eat more when you're in emotional pain or do you lose your appetite completely? Both are common reactions to loss.

Roller Coaster of Emotions

- One moment you're up, the next you're feeling down. All of which can make you feel tired and emotionally drained.

Reviewing the Relationship

- When someone dies or leaves it's common to think about the things you wish you would have said or done in the relationship.

There are a whole host of feelings that may be attached to those unsaid things. Happiness, sadness, love, fear, anger, relief, and compassion are just some of the feelings that you might experience. You don't need to categorize, analyze, or explain those feelings. You simply need to learn how to communicate them and then say goodbye to the relationship that has ended. That's what the Grief Recovery Method is for.
Don't let anyone give you a timeframe, category or stage for how long  you should be in emotional pain or you might get stuck there. Your emotions are normal, natural and unique to you! Instead know that recovery is contingent on the work you are willing to do. 
Ready to heal your heart? Learn more about our programs today!