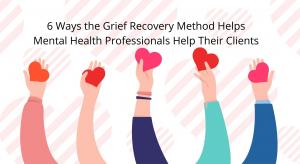 Are you a mental health professional that wants to offer more to your clients? If so, kudos to you! If there's one thing we've heard over the years it's how you wish you had more tools for helping people walk through grief.
Knowing that grief is the common thread that affects most of your clients is a wonderful observation. You know that the accumulation of losses over the years limits and restricts their lives in many areas - including romance and business. At the same time you might not feel fully equipped to help them. (It takes a special kind of person to want to continue their education to benefit the people they help.) 
Unresolved grief is the underlying cause of pain in so many people, so let's take a look at some of the benefits of adding The Grief Recovery Method to your practice.
Emotional baggage from the past tends to clog people's vision of themselves and others. The freedom that comes from Dealing with underlying grief will help your clients see themselves more honestly, which leads to better results in therapy.

You've probably heard the phrase,

"Doing the same old things and expecting different results''

. It's pretty tough to do anything new and better unless you look at what's holding you back from the past. In a crisis most people go back to their old ways and behavior. Effective Grief Recovery, coupled with therapy,  is an invaluable way to lead your clients to new beliefs and behavior.

 

Dealing with past grief allows clients to rebuild a sense of safety, trust, and happiness.

 

Nothing guarantees failure of new relationships more than dragging the unfinished business of each former relationship into the next. Just take a look at

divorce rates

. 1st marriage divorce rates average 50%, 2nd marriage 67% and third marriage 73%. Adding Grief Recovery to your practice, coupled with therapy, will help your clients break the cycle of unknowingly sabotaging their new relationships.

 When someone doesn't know how to deal with past losses, they couldn't possibly know how to deal with future losses either. What happens? They continue to use the wrong tools over and over and over again. Grief Recovery will help you give your clients more effective tools so they are better prepared to deal with the inevitable losses they will experience in the future. 

You'll attract more clients because every single person on the planet will experience grief - even if they call it a different name. After the Grief Recovery Training you can take your clients through the Grief Recovery Method and then use the skills of your profession to help them make the life and behavior changes they want and need. Dealing effectively with grief is the best new beginning you can give your clients. 
Want to help people recover from loss? Learn more here!A
f