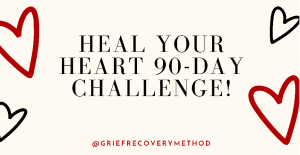 We are thrilled to announce the Heal Your Heart 90-Day Challenge.
You're going to love moving beyond your emotional pain!
Have you been crushed by a devastating loss like death, divorce, pet loss,
childhood trauma, or a loss of safety?
Are you heartbroken and looking for a way out? 
Whether you experienced a major loss or a lifetime of painful experiences, one thing is for sure...
Regardless of the cause, you know how you feel and it probably isn't good.
We've been there too and can help you find happiness again.
Join the Heal Your Heart 90-Day Challenge today:
​​Learn how to honor your loved one and still have a happy, joyous life

Understand why pain and sadness doesn't have to be your new normal

Overcome feelings of guilt, shame and regret

​Learn how to let go of painful memories and emotions to make room for happy and joyous ones

Discover the freedom of knowing that you don't have to live a life sentence of pain

​Become the person you are meant to be without being held back by the trauma and grief of your past

​Regain your lost quality of life
The 90-Day Heal Your Heart Challenge will help you find the healing and peace you're looking for!
LEARN MORE or click this image