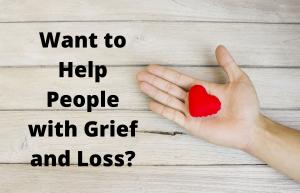 Looking for a proven way to truly help people with grief and loss?
The Grief Recovery Method® is the most comprehensive Grief Recovery education and certification in the world. The program has even been proven to be evidence based and effective by Kent State University.
You will get the tools you need to effectively help people recover from loss as well as an opportunity for your own personal healing. 
People come to us not only to help others, but because their own lives might have been devastated by loss. Having gone through grief, they know how hard it can be and want to help other people with broken hearts.
Here's what a few participants have to say about the program.
"To be able to see the amazing change in the eyes of the people that you help, as they discover that The Grief Recovery Method is working, is one of the most rewarding experiences of my life." - Grace F
"This is my third certification in grief.  HUGE DIFFERENCE.  The Grief RECOVERY Method is hands down THE BEST!  It actually deals with the issues of the heart vs. taking the grieving through stages which forces them to "Think" their way through the grieving process.  
I could write a book on all the success of this program.  Whether you are a griever, or you are being called to help the griever - take the course or get to the next training certification.  
So I'll ask, "Do you want to be well?"   This is like any other form of recovery.  There are steps, awareness, and work involved.  As long as you believe you are worth it and ready for that weight to be lifted so you can get back to REALLY LIVING.  Go through The Grief Recovery!!  Do it NOW!" - Kim W
"As a practicing counselor who has attended countless trainings in over twenty years, this training, without question, is the VERY best I have ever attended. Ed Owens was outstanding, in every sense of the word. He walked our group of 12 participants (grievers) through 4 days in a manner that was remarkable to be a part of. He was not our teacher, he was our guide and mentor. He built immediate rapport, created an environment of support, answered ALL questions, and modeled the method every step of the way. He held "safe space", was a heart with ears, and brought the method to life using his own experience, while tying in the critical concepts from text. Please let me know how I can help in any way; as this training changed my life and work. Moreover, it will change the lives of the beautiful veterans I am so honored to serve. Thank you Ed, and thank you GRI. I am forever grateful." - Johnny Martin National Director of
Aftercare FitOps Foundation
"I am a professional counselor who has had over 20 years of experience in the field. I must take 40 CEU's each year to maintain my license. Generally I just go through the paces to get my CEU's but Jocelyn's training has been the best, most useful and superb use of my time. In the last 20 years, I have never walked away feeling that every minute and every Dollar was well spent and enriched me and my capacity to deliver a helpful service to my community. I have nothing but good things to say about my experience.
If all your trainers are as proficient as Jocelyn, I can most assuredly recommend your organization and your training to my personal and professional community. I am so grateful. Thank you all and special thanks to Jocelyn.
The Grief Recovery Specialist Training is the best experience I have had in the last 20 + years! I was pleased and enriched by each moment of the learning as well as the money spent to join the training. The method itself is extraordinarily well developed, evidence based and easy to understand. The information is broad and deep and will enrich you personally and professionally. I highly recommend joining such a
Training." - Grief Recovery Specialist
"This has hands down been the best training I have ever attended. I work in mental health/social services so I attend trainings pretty frequently. The training was a lot more intense than I anticipated but that's completely okay. I was also surprised at how quickly our group formed a bond. Having participated in grief support groups myself this past year, this training was so helpful and eye opening! I have a completely new perspective on grief and loss." - Grief Recovery Specialist
Learn more by booking a free discovery call today!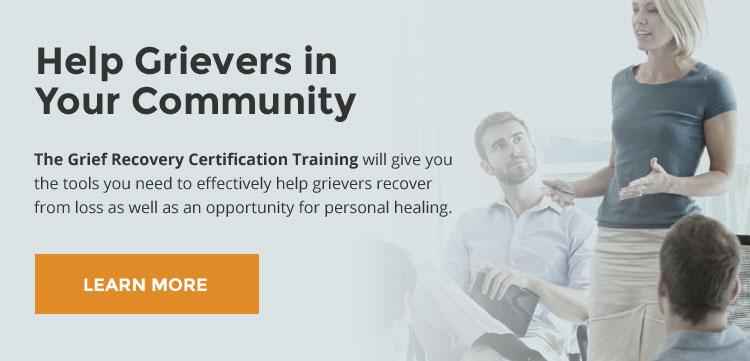 LEARN MORE or click this image