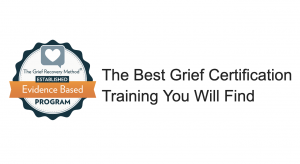 When choosing a grief certification training we know you have options. Have you thought about what's important to you? There are a lot of programs that offer different types of grief training, but not all options are equal.
Grief certification training with The Grief Recovery Institute will give you specific tools to effectively help people walk through grief and heal their hearts.
When you align yourself with The Grief Recovery Method you are joining the original grief recovery experts who have been helping people deal with grief for over 40 years. Our goal has always been to help heal as many hearts as possible and that has never changed. Our grief certification training is based on the Grief Recovery Handbook which has sold over a million copies in North America alone.
The Grief Recovery Method is the ONLY Evidence-Based program for grief healing. The term "Evidence Based" means there is research that looked into how the Grief Recovery Method works and is published in a peer-reviewed journal. Studies show that The Grief Recovery Method goes beyond a "best practice" or "promising approach" in dealing with the emotional pain of loss. This means there is high confidence that those who follow the Grief Recovery Method Action Plan can find happiness in their lives despite the loss they suffered. When you train with us, you will get access to 5 Grief Recovery Method formats, which means you won't be left to figure out how to implement the training on your own.
Sadly, most grief groups are good at supporting people in their pain, but lack effective recovery tools. That leaves people in a never ending cycle of short term relief, but no true recovery. It's like a hamster running round and round on a wheel. It's not wonder why people with grief are so exhausted.
During our 4 day grief support training, you'll receive an incomparable education in grief.
You'll learn more about the 6 myths about grief, and the over 40 types of losses that cause grief such as: 
Death

Divorce

Pet Loss

Break ups

Sexual abuse 

Trauma

PTSD

Death of a child

Suicides

Depression caused by Covid

Job loss

Loss of Trust

Loss of safety
Wondering if our grief certification training is a fit for your life?
We often see the following people in our grief training classes:
Therapists

Psychologists

Counselors

Social Workers

Teachers

School based counselors

Marriage and family therapists

Nurse practitioners

Mental Health Professionals

Life coaches

First Responders

Clergy

Hospice Workers

Funeral Home Workers

Small group leaders

Medical Doctors and nurses

People who have experienced major loss and want to help others find relief
What our Grief Training Graduates have to say:



Click here for more information on the top level training you'll receive with us and learn proven tools to confidently help people with their grief!