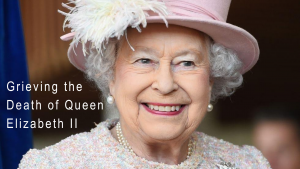 Do you remember the first time you heard about the death of a celebrity you loved like President John F. Kennedy, Whitney Houston, Michael Landon, or Kobe Bryant?
Did you feel crushed?
Celebrity deaths can be heartbreaking. It's normal to grieve the death of people who were important to you, even if you didn't know them in person.
When you first hear someone died, your brain almost automatically finds things you wish would have ended different, better, or more. It's the same when someone famous dies.
"I wish I had the chance to tell her that her music helped me get through my divorce."
"We never met, but I wish we could have."
"She reminds me of the times I spent with my dad before he died."
Have you seen the social media posts about the death of Queen Elizabeth II? People are sharing about what she means to them, their memories of her, and their heartache. We commend it because most often people think they need to hide their feelings of grief by keeping it to themselves or acting strong.
Here is what our friend and UK Certification Trainer, Catherine Best, has to say,
"My heart is breaking, for our Queen and all those who loved her. She has been there for the whole of my life. My Dad served in the Royal Navy for 23 years and so the phrase 'for Queen and Country' was something I was very familiar with.
I remember the Queen's Jubilee street parties that were held in June 1977. I was 8 years old and I remember my sister and I dressed head to toe in red, white and blue. The whole street was closed and we danced and shared food and friendship, it was so much fun. We did this again only this year in June 2022 when she gave us a 4 day weekend to celebrate her outstanding reign of 70 years for her Platinum Jubilee. These events brought us together as a Nation, a Realm, a Commonwealth, but also as a community, talking to neighbours, sharing memories of the Queen and her reign.
Over the next days and weeks we will come together to remember her and support her family as we prepare, as a country, for her funeral. She was steadfast and led the country through some extremely difficult and turbulent times, always with dignity, honour and compassion. She was most definitely the people's Queen.
If you are sad tonight then let yourself cry. This is the most normal and natural reaction to any loss. If you need support, please ask for it. I for one will be taking time to grieve. I had never met her but she was very much part of my life, and today I am heartbroken and overwhelmed with sadness.
Thank you for your service Ma'am, you will be sadly missed. I love you. We love you. God save the King."
If you're grieving too, that's normal! 
During this sad time, we'd love to give you a free copy of our bestselling book, The Grief Recovery Handbook, for free. Simply click below and cover shipping.