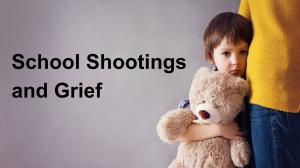 When most people think of Nashville, TN, they think of Music City, the Grand Ole Opry, and the Country Music Hall of Fame. That changed on Monday, March 27, when three children and three adults were killed during a tragic shooting at The Covenant School.  
We are all grieving: for the victims and their families, the loss of trust and safety, and the loss of innocence. We grieve for our children.
During times like these, it's normal to try to find solutions. Simply turn on the news or social media to hear various political views on keeping our kids safe. These arguments show people care, and that's good. What gets lost are discussions about healing the emotional side. 
So, let's put aside politics and talk about healing hearts. 
Take time to feel pause and allow your grief to come up and express it.

Remember, the solution to grief is emotional, not intellectual. 

Connect with friends and family.
How to Talk to Kids about Tragedy
Most parents and teachers are at a loss when trying to help their children deal with any grieving experience that impacts them. There is no one size fits all. Children have different maturity levels, so that's up to your discretion. The most important element about children and grief is not the age or size of the child but the knowledge and honesty of the parents and other guardians. As parents or those entrusted with children, we want to help them in every way we can, especially when they are experiencing painful events. 
Lead by example by going first. Sharing your feelings first makes it safe for children to follow your example.

Tell the truth about your feelings (in an age-appropriate way).
Remember, kids are smart. They see and hear more than we think they do. Treat their feelings with the same respect and dignity that you want to receive.
Want to know about how to effectively help children with loss?
If you're a parent, caregiver, teacher, or work with children in any capacity, The Helping Children With Loss program provides information and tools to help children work through the emotionally painful events that happen in life. 
Learn more about it here.